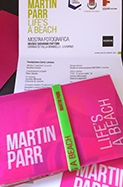 Leporello "Life's a beach" by Martin Parr
Life's a beach. Beyond the resonance which might suggest to the anglophone ear that in short, life is for everyone but it never comes for free; life is also a beach. In Parr's photos the beach is where the magnificent indolence of imperfect bodies lounges; warming in the sun, abandoned to the amniotic innocence of the sea.
And perhaps, while they are full of life, colourful to the point of being gaudy, Martin Parr's beaches are always in fact, the "last resort" – where the anthropic element of the moment when we are finally "on holiday" is freeze framed, that nothingness where beginning meets end. And in between exists the illusion of eternity, the day we wish would never end.
My wish, is that the people of Livorno, scorched on the beaches of Calambrone or by the white, metaphysical sands of Vada, look into the mirror to see in the lives given up to the Sun, the reflection of an era both exotic and familiar to their own.
Simone Lenzi
Culture Councillor of the Municipality of the Comune di Livorno